Home
»
The New Power Behind Bauer?
The New Power Behind Bauer?
By Mike Betron
Infoglide VP and GM of Social Identity Services
In the hit television series 24, Jack Bauer needed accurate information for split second decisions in "real time." It was a matter of life or death for the characters in the show – even subtle discrepancies could mean the difference between Bauer trusting someone or deciding that he or she was a terrorist. Knowing the facts – in their most current status – was imperative for him to function. On the show, Bauer could rely on Chloe, his contact at the Counter Terrorist Unit to give him the latest assessment of the situation so he could decide on his next course of action.
For most financial institutions, however, finding a person of interest is not as simple as dialing up Chloe. In a recent survey commissioned by Infoglide to 230 managers, directors, and VPs in charge of managing fraud/risk/security at the top 100 banks in the US,  over a 1/3 of all participants responded that their most critical challenge to solving fraud was their inability to effectively find persons of interest in real time across all of their data. Oftentimes, even when a bank has usable information, they can't put the pieces together in time to solve the puzzle.
Part of the issue lies in the massive quantities of data that financial institutions have to search through. According to our survey, the average investigator at a bank searched four different systems, with many of the larger banks needing to search over 7 data sets or systems.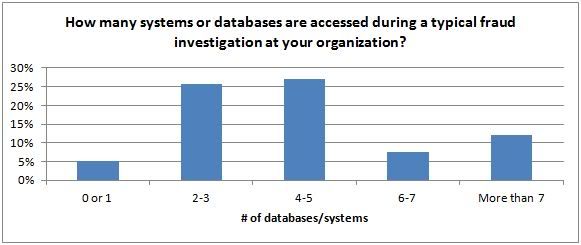 Another issue identified in the survey is the lack of data sharing between departments. For example, less than half of all banks even share a common case management tool across their departments.  Collaborative efforts are either manual or nonexistent for over 50% of all banks. John Doe might be defrauding the commercial side of the bank and laundering his newfound wealth, but the bank is not be able to pinpoint that it is the same person. Where is Chloe when you need her?
Banks that suffer these issues should strongly consider Infoglide Identity Resolution Engine (IRE). With IRE, they can connect to all of their data sources – internal and third party – to search for persons of interest in real time.
The stakes may not be life or death, but with banks under increasing regulatory and compliance pressures, there exists the same Bauer-esque need to make good decisions in real time about the interactions they have with customers.  Missed opportunities to stop fraud and/or money laundering are costly and painful.  Sorry, Chloe… but IRE has your job now.  It provides the real time intelligence, real time threat detection and real time decisions that you used to give to Jack… 24 hours a day.